IPhO Announcements
To kick off the 2018 Midyear Meeting in Anaheim, IPhO and its National Fellows Council hosted an exciting event for all fellows from across the country to network and learn the ins and outs of how to land a full-time position post fellowship. Moderated by IPhO Executive Director Jim Alexander, the program featured a series of roundtable discussions with successful fellowship alumni/industry executives who shared their insights and guidance on how to pursue a full-time position within industry.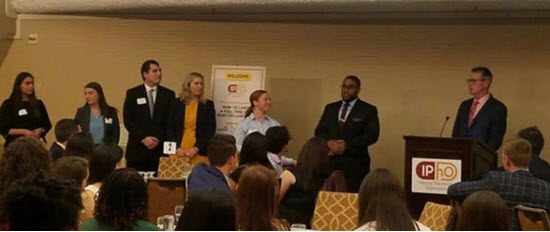 IPhO would like to thank Nina Johnson, New England Regional Student Officer and PharmD Candidate 2019, for leading the development of this valuable student resource.
The Rutgers Professional Industry Fellowship (RPIF) program will be hosting its annual Fellowship Information and Networking Day (FIND) on November 16, 2018. Hundreds of fourth-year pharmacy students from across the country attend this event to learn more about the nationally recognized fellowship program.
The event is broken down into three sessions: a didactic session, an information session and Q&A panel, and a networking session.
Members of the IPhO National Fellows Council (NFC) and leadership team have provided their FIND insight—including how to prepare for the fellowship application and interviewing processes—to help students make the most of their time at the event.
IPhO is pleased to announce the addition of another new student chapter to our growing national network!
Congratulations to student pharmacists at South College School of Pharmacy. IPhO now connects them to a national network of over 4,000 student pharmacists with similar interests, as well as a national network of hundreds of industry fellows and thousands of industry pharmacists.
Several more schools are in the late stages of filing their chapter applications and will soon join the growing national network.

To start a chapter at your school, click here.

For the student benefits of joining IPhO, view the National Student Brochure here!