IPhO Announcements
On April 7, 2018, Purdue University and IPhO hosted the 3rd annual Midwest Regional Symposium.
Students from 6 different midwestern schools of pharmacy attended the event, which made this year's attendance count the highest to-date! The event featured speakers that represented a variety of industry roles and allowed students to learn more about opportunities for PharmDs in industry. Students were also made aware of the numerous different pathways available to attaining an industry career and had a valuable opportunity to network with the attending industry professionals.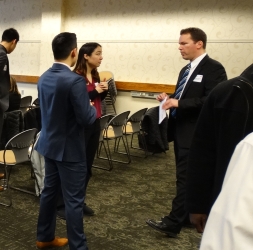 We wanted to take a moment to congratulate the IPhO National Student Officers (NSOs) and Regional Student Officers (RSOs) who have accepted industry fellowship positions! This is a tremendous accomplishment and one that each NSO/RSO worked hard for and so greatly deserves.
We are pleased to congratulate the following NSOs and RSOs on their new upcoming fellowship positions!
On Wednesday, March 28, 2018, MCPHS University Boston IPhO Student Chapter hosted its annual Northeast Regional Event. Students from across the region gathered to learn about the different oncology roles a pharmacist can have within the pharmaceutical industry. Students from 6 nearby IPhO chapters joined, including: MCPHS University Boston, Worcester, and Manchester, University of New England, Western New England University, and Northeastern University. This is the 5th year that MCPHS University Boston has hosted the event, which facilitates opportunities for networking with other students, faculty, fellows, and industry pharmacists.