IPhO Announcements
SUMMER SESSION - JUNE 2018
The IPhO Industry Certificate Course is back by popular demand to prepare students, recent graduates, and younger professionals interested in pursuing an industry career. Entering its third year, the in-depth course curriculum explores all aspects of pharmaceutical commercialization, from drug development and regulatory approval, to marketing and sales strategies through life-cycle management. Each functional department is described and discussed with a focus on the roles and opportunities available for pharmacists to successfully contribute and achieve high levels of professional satisfaction.
Learn more about the course and register now!
HOW IT WORKS
This is a live, online course, taking place Wednesday evenings (8pm-10pm EST) for a period of 8 weeks.
Registered participants will have access to the archived lectures.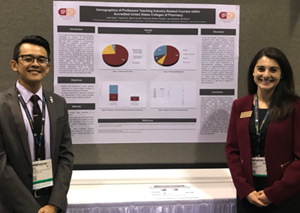 The research poster entitled, Demographics of Professors Teaching Industry-Related Courses within Accredited United States Colleges of Pharmacy, builds upon previous IPhO research published last year describing trends among industry-related courses within US accredited colleges of pharmacy.
Authors: Andy Szeto (pictured at left), University of the Pacific; Tayyeb Din, Long Island University; Marine Schmitt, Oregon State University; Rosemary Boshar, PharmD, Sanofi Genzyme/MCPHS Fellow (pictured at right); and Jerry Silverman, BS Pharm, Industry Pharmacists Organization, describe professor experience among industry-related courses within US accredited colleges of pharmacy.
This research shows a large variation in instructor experience ranging from 1 year to 40 years, with a mode of just one year of industry pharmacy experience. The authors hope that as student interest in industry continues to escalate, ACPE will revise their curriculum requirements to include industry topics, and in time this will facilitate a need for full-time industry-experienced professors.
To review this research poster, please click here to visit the IPhO Scholarly Publications section of our website.
The second research poster presented at Midyear 2017, Demographics of Current First- and Second-year Industry Fellows, reports upon changes in current fellows' academic and experiential backgrounds to better prepare and guide applicants toward obtaining an industry fellowship.

The 2017-18 IPhO Industry Fellowship Analysis has been published!

The report highlights key characteristics of all current fellowship programs, such as functional area, academic affiliation and alma mater of the fellow, and 4-year trends of these data.

There are 442 PharmDs currently participating in US-based, industry-focused postgraduate fellowships, representing +17% growth versus last year.

Below is a sneak peak into just some of the findings in the publication.

Click here to view the full report and explore additional scholarly publications, presentations, industry posters, and more.