Fellows
Industry Content for Fellows
Fellows Feature
Chetna Hirpara, PharmD
Fellowship Sponsor Company: PRI Healthcare Solutions
Function/Discipline: Medical Communications
Fellowship Years: 2018—2019
Alma Mater: St. John's University, College of Pharmacy and Health Sciences, Class of 2018
Throughout pharmacy school, I always set my sights on the "bigger picture." I felt that the knowledge I was acquiring could be used to benefit a larger group of people than just the patients I would see if I worked in a retail or hospital setting. I wanted to make a bigger impact by sharing the healthcare information I learned regionally, nationally, or even internationally. This desire sparked my interest in the pharmaceutical/medical communications industry.
After talking with former pharmacy students who shared their experiences with fellowships and industry, it became even clearer to me that pursuing this path would help satisfy my personal and professional aspirations. To better understand industry, I decided to select elective rotations in medical communications during my final year of pharmacy school. I learned all about the value of a pharmacist in the collaborative medical communications/ medical affairs field. Because of the experience gained during my rotation, I knew that pursuing a fellowship was the best next step for me.
Fellows Feature
Dilpreet Kaur, PharmD
Fellowship Sponsor Company: USC/Allergan
Function/Discipline: Medical Affairs- Global Phase IV
Fellowship Years: 2018—2019
Alma Mater: University of Cincinnati, College of Pharmacy, Class of 2018
I knew I wanted to be a pharmacist at a young age. However, figuring out my niche in the field took some exploration. During my first year of pharmacy school, a pharmacist came to campus to speak and he introduced me to industry pharmacy. His talk sparked my interest and from there, I began to research more about what industry pharmacy was, types of fellowships available, and where I would fit best. Like many other schools, my college of pharmacy was better versed in information relating to residency or community pharmacy. It became my responsibility to discover what industry opportunities existed and to take advantage of them.
Fellows Feature
Liam McGuey, PharmD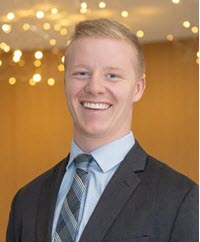 Fellowship Sponsor Company: MCPHS/Sanofi Genzyme
Function/Discipline: US Medical Affairs/Medical Science Liaison (MSL)
Fellowship Years: 2018—2020
Alma Mater: Albany College of Pharmacy and Health Sciences (ACPHS), Class of 2018
Like many pharmacy students, I did not enter pharmacy school with the goal of pursuing a career in industry. Although pharmacy school prepares students for several different careers, often the pharmaceutical industry and fellowship programs are left behind. I learned about industry through friends and past fellows and was able to secure two APPE rotations at Bayer and Sanofi Genzyme during my P4 year. In fact, I met my eventual Sanofi Genzyme APPE preceptor at an ACPHS IPhO networking event my P3 year, where she agreed to work with me as a student. Two years later, I am living in Boston as a Sanofi Genzyme fellow. Talk about a small world!