Fellows
Industry Content for Fellows
Fellows Feature
Featured Fellow: Lanny Nguyen, PharmD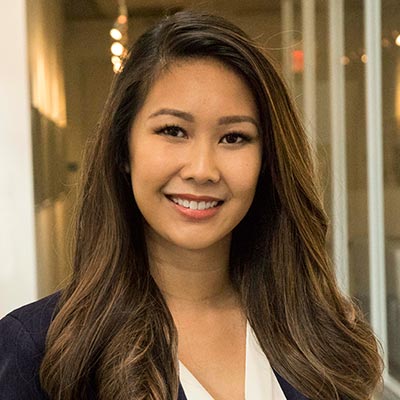 Fellowship Sponsor Company: DDB Health (Omnicom Health Group)
Function/Discipline: Pharmaceutical Advertising and Marketing
Fellowship Years: 2017-2019
Alma Mater: Rutgers University, Class of 2017
I never imagined that one day I would use my pharmaceutical background to assist with virtual reality experiences, video shoots, and podcasts. I knew early on in pharmacy school that I was interested in a somewhat non-traditional path. Before applying to pharmacy school, I was only aware of community and hospital pharmacy. After taking a class about the pharmaceutical industry at Rutgers, I learned that pharmacists have the potential to impact patients and healthcare on a national or even global level. I decided to explore that path further and took an Pharmaceutical Advertising and Marketing elective course. I was intrigued by the fact that this career path would allow me to use my scientific knowledge while incorporating creative elements. I was fortunate to intern at two pharmaceutical advertising agencies, RevHealth and Harrison and Star, which solidified my interest in this career path.
Fellows Feature
Featured Fellow: Kristina Vishnevetskaya, PharmD, RPh
Fellowship Sponsor Company: GlaxoSmithKline (UNC)
Function/Discipline: Global Regulatory Affairs
Fellowship Years: 2017-2019
Alma Mater: Rutgers University, Class of 2017
Industry is full of new and exciting innovations that drew me in from early in my pharmacy school career. I knew from my involvement in the Rutgers student chapter of DIA and my experiences within industry that I wanted to be a part of this dynamic environment and continue to grow as a life-long learner. I have always been passionate about wanting to help patients on a macro scale, and the pharmaceutical industry provides an ideal outlet for these ambitions.
Fellows Feature
Featured Fellow: Jateh Major, PharmD
Fellowship Sponsor Company: Merck (Rutgers)
Function/Discipline: Global Regulatory Affairs
Fellowship Years: 2017-2019
Alma Mater: Howard University, Class of 2017
Throughout pharmacy school, I gained work experience in both the retail and hospital settings, and I knew that the "traditional roles" of pharmacy practice were not the best fit for me. I wanted to position myself to do more. During my second year in pharmacy school, I was given the opportunity to work with a team of colleagues to develop a multidisciplinary initiative that targeted the homeless population of Washington, DC. As I worked on the project, I recognized how much I enjoyed working with individuals with unique areas of expertise in order to create something innovative that provided a major positive impact to underserved communities. This experience inspired me to pursue post-doctoral opportunities that would allow me to work in a similar environment. Soon after the initiative, a Howard University alumnus and Rutgers Fellow came to speak to us regarding the various roles for pharmacists within the pharmaceutical industry. As he discussed the details of the various positions within several functional areas, I was reminded of the role I played in the homeless outreach initiative. After his presentation, I decided that I was going to pursue a position in the pharmaceutical industry.