We are the only professional pharmacy organization dedicated exclusively to advancing the careers of industry-based pharmacists. Join as a member now to enjoy the full benefits of membership in IPhO, founded and brought to you by Industry Pharmacists, for Industry Pharmacists.
Friday, February 24, 2017
IPhO Announcements
IPhO Presents: How to Land an Industry Internship
As IPhO continues to expand our commitment to student members, one of our key initiatives is to provide guidance for students to obtain industry internships. We are pleased to introduce new and updated resources to support identification and pursuit of industry internships.
This Industry Internship Toolkit includes:
An updated version of the

Guide to Industry Internships

, adding a level of detail that cannot be found elsewhere including comprehensive outlines and guidance on every step of the internship identification and application process.
The

Internship Catalog Version 2.0

complete with the latest industry internship postings including direct links to company career sites and descriptions of internship opportunities and positions.
The new

LinkedIn Job Alert Guide

. IPhO provides you with a guide on the latest methods of using LinkedIn to power your internship search! In this comprehensive step-by-step guide with illustrations, you'll learn how to utilize LinkedIn effectively to receive internship listings directly to your LinkedIn profile and email.
We wish you the best of luck on your path to industry, and we encourage you to fully utilize these resources to advance your career pursuits!

IPhO welcomes your assistance in keeping the catalog as current and accurate as possible, so please send us any updates using our Contact Form.

IPhO would like to thank Brian Cheng, St. John's University School of Pharmacy IPhO Chapter President for his work on these professional development resources.
10 New Year's Resolutions To Improve Your Communication Skills
It's that time of year again – the time to make New Year's resolutions. But instead of just going the traditional route – pledging to join a gym to work off holiday excesses – why not opt to give your career a boost as well? Resolve to improve your communication skills.

Yes, you read that last sentence correctly! How you communicate with others—whether in person, in writing, or online—has a tremendous impact on your career. It affects every aspect of your working life, no matter how good your specialized skills are in your particular field.

For the coming year, make these communication resolutions to enhance your career:

1. Resolve to keep your phone off the table when meeting with someone.Having your phone visible tells the other person, "I am so ready to drop you and connect with someone else." It's important to give people your full attention.


2. Take a presentation skills class. Work on becoming a better presenter. You need to get your point across. And if you do so effectively, not only does your audience gain information, but you look good.
IPhO Hosts 4th Annual Event For All Fellows Nationwide
During the recent Midyear Meeting in Las Vegas, IPhO and its National Fellows Council hosted an exciting event for Fellows of all Fellowship Programs in the US to network, and to learn more about how to get a full time position post-fellowship. Moderated by IPhO Executive Director Jim Alexander, the program featured a series of roundtable discussions with successful fellowship alumni and other industry executives who shared their insights and guidance on how to pursue a full-time position within industry.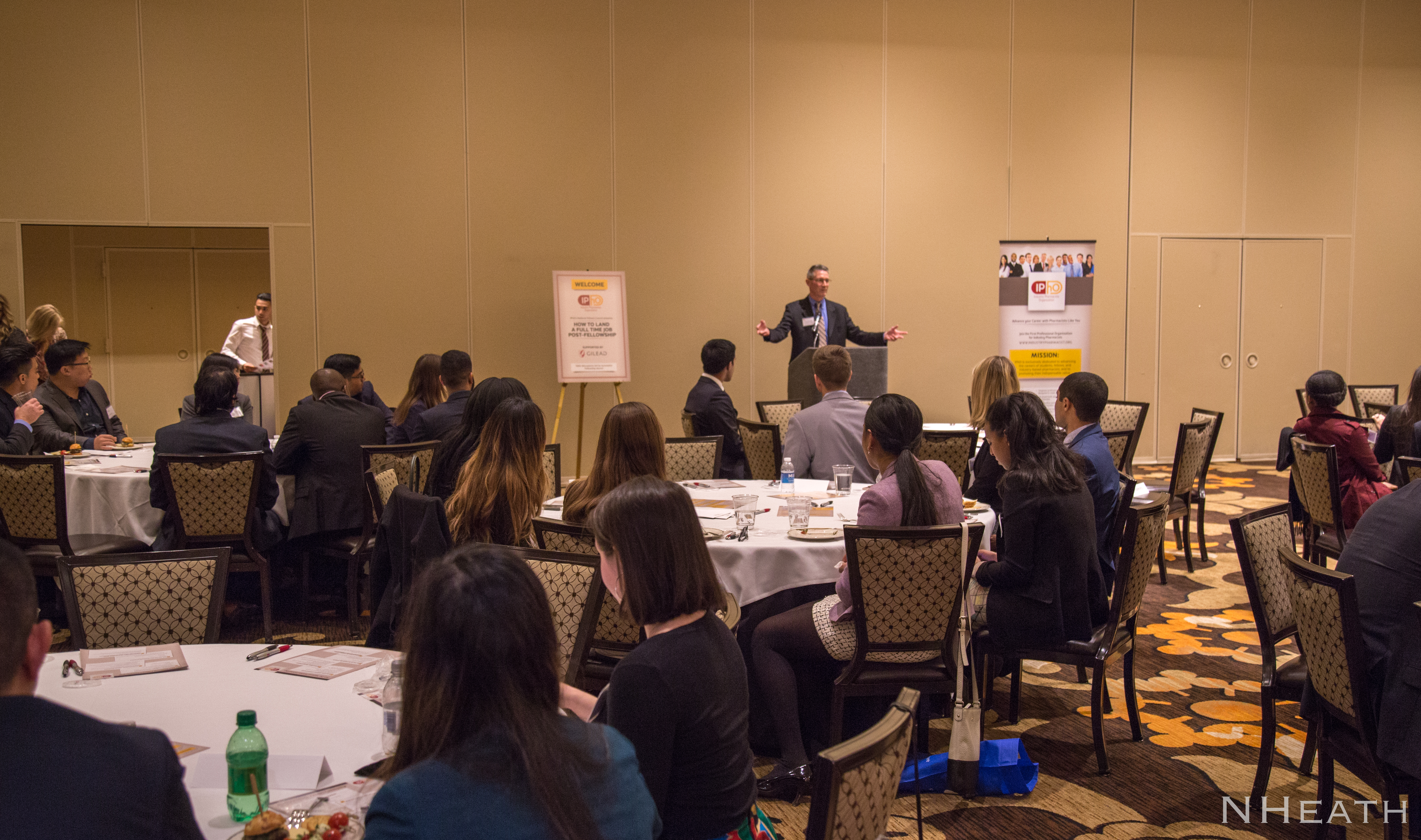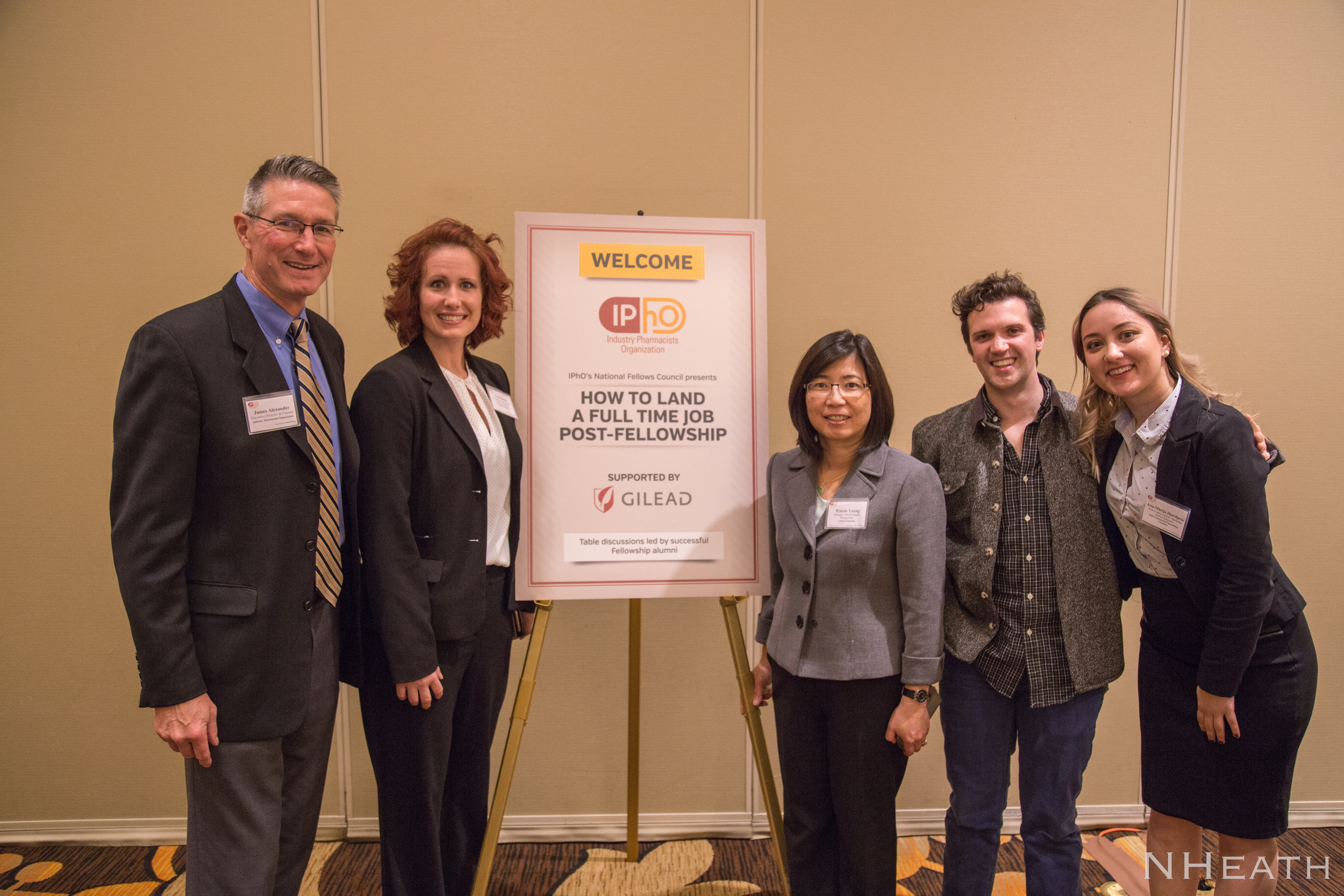 The IPhO National Fellows Council would like to thank the following table discussion leaders for volunteering their time and sharing their key insights:
Adrienne Aiello, Manager, Scientific Publications, Sanofi Genzyme
(Alumna, Rutgers/Bayer Fellowship)
Toni Burke, Associate Manager, Clinical Supply Management, Gilead
Kevin Kerr, Manager, Clinical Development, Allergan
(Alumnus, USC/Allergan Fellowship
Kimberly Lehman, Associate Director, Immuno-Oncology Medical Scientist, Bristol-Myers Squibb
(Alumna, Rutgers/BMS Fellowship)
Shane McGann, Manager, Regulatory Affairs, Agios
(Alumnus, MCPHS/Genzyme Fellowship)
John O'Brien, Associate Manager, Clinical Supply Management, Gilead
(Alumnus, MCPHS/Pfizer Fellowship)
Alexander Schepart, Senior Manager, Medical Affairs, Pfizer
(Alumnus, Rutgers/Pfizer Fellowship)
Elvis Osei Tutu, Manager, Global Regulatory Affairs, GlaxoSmithKline
(Alumnus, UNC/GSK Fellowship)
Winnie Young, Manager, Clinical Supply Management, Gilead


IPhO would like to thank Gilead for its generous support of this event!
Stay tuned for more IPhO networking events in the near future!