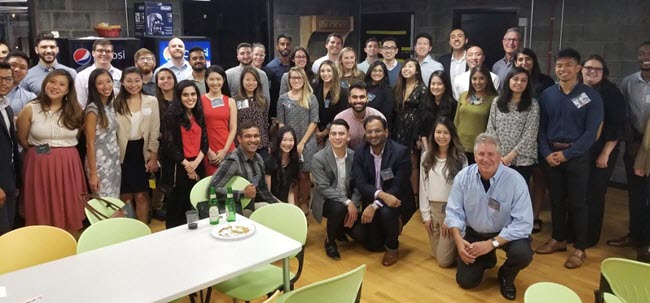 The inaugural IPhO Fellows Networking Event was held in late September, hosted at RevHealth in Morristown, NJ. Over 40 PharmDs attended from the tri-state area, including fellows from over 18 different programs, industry pharmacists, IPhO staff, and two IPhO student officers. The attendees enjoyed an opportunity to network and learn, which was capped off with a night out in Morristown with the PharmDs of RevHealth!

The evening began with networking and opening remarks from RevHealth-IPhO Marketing Fellow, Adam Chin, and Jim Alexander, IPhO Executive Director and Founder. Next, attendees engaged with RevHealth Managing Partner and Founder, Bruce Epstein, RPh. Bruce shared his career path, beginning with his employment as a pharmaceutical sales rep through establishing his own pharmaceutical advertising agency. He stressed the importance of empathy and truly understanding client needs when developing a career in industry, and made direct connections between the strategy of marketing a product and marketing oneself in an interview.
Attendees were provided with tools they could use to complete their own personal positioning statement, helping them properly market themselves for any career opportunities they may have in the future.

The program concluded with a Q&A session, allowing attendees to learn more about Bruce's journey and the topics that he teaches in his pharmaceutical marketing course at Rutgers University. The attendees then continued the networking event at a nearby restaurant.
The goal of networking events like this one is to provide fellows and students with an opportunity to connect with friends and colleagues outside of the office, and foster meaningful professional relationships throughout their careers. IPhO and RevHealth were grateful to be involved in such a successful event and thank all who were able to attend.

Authored by Adam Chin, First-Year Marketing Fellow, RevHealth