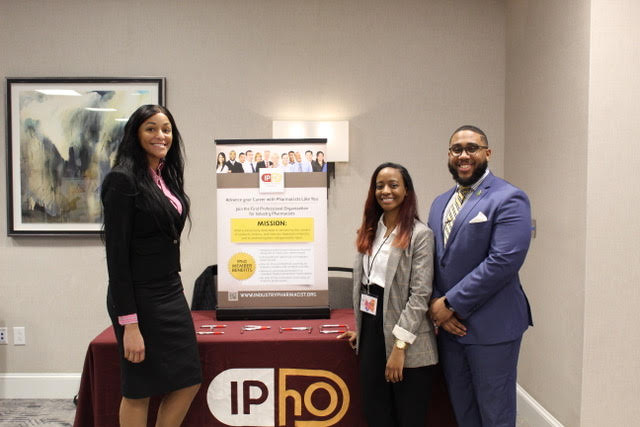 IPhO chapter leaders joined hundreds of student pharmacists from across the country in Washington D.C. for the 2019 Student National Pharmacists Association (SNPhA) Conference. The annual meeting keeps students up to date on topics like best practices in health care, available professional resources, career development, and more.
Mitchell Linton (National Student Officer of Professional Affairs), Kimberly Watson (Regional Student Officer of Southeast Region), and Jayla Briggs (IPhO Howard Chapter President) took advantage of the forum to help raise awareness among attendees about the growing prominence of pharmacist roles in industry. They shared their experiences working with IPhO and advised students on how to leverage available resources to secure an industry career and make a global impact on health care. The SNPhA conference provides an outlet for aspiring pharmacists to come together, learn from eachother, and discuss important industry topics—such as how to improve the representation of minority groups in the field.
IPhO thanks the SNPhA Howard University Chapter for the opportunity to exhibit. We look forward to ongoing collaboration with NPhA/SNPhA—a partnership that will continuously advocate the value that pharmacists bring to industry.
Authored by Mitchell Linton, IPhO National Student Officer of Professional Affairs and Chapter On-boarding, Howard University, Class of 2019