IPhO and Student National Pharmaceutical Association (SNPhA) continue to build upon their strong foundation of professional development resources, created to advance the skills of student pharmacists interested in pursuing an industry career.
The partnership was established to grow the leadership skills of the student members of both organizations by creating a series of learning opportunities, all of which are and will continue to be available on the IPhO website. The first professional development webinar, "Leadership and Industry Pharmacists," was delivered to a group of SNPhA pharmacists, and can be viewed here. Its success and value to the audience in attendance reinforced the need for additional resources of this kind.
The next installment in the series—currently in development—is a program on networking, which has proven to be one of the most challenging skills for students to master, but is critical to landing a fellowship or industry career.
To further advance the partnership, IPhO joined SNPhA at its annual conference in July 2018 to help raise awareness among pharmacist and student pharmacist attendees about the opportunities for pharmacists in industry and the active roles they play. IPhO National Student Officer Mitchell Linton and IPhO Regional Student Officer Kimberly Watson (both Howard University, Class of 2019) represented IPhO at the event to help raise awareness among student pharmacists about how they can leverage their education and clinical expertise in industry to have a broad impact on healthcare.
Additionally, SNPhA was an exhibitor at the IPhO Annual Student National Meeting, which took place in March, 2018.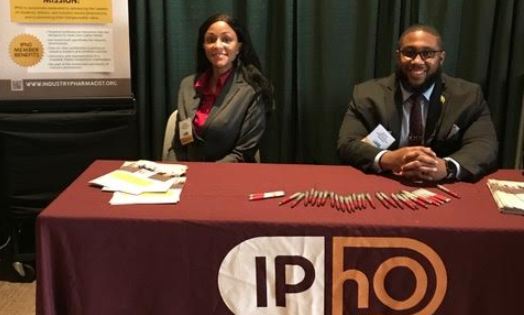 Stay tuned for new student professional development resources available through this collaboration on the IPhO website.
IPhO would like to thank SNPhA for its partnership and support of this invaluable initiative.